Scott Balson's trip to South Africa -
22nd September 2006 - Mafikeng
I spent much of today on the road - travelling from Griquatown to Danielskuil - where Barend Barends, the Griqua Chief, had his pit of snakes for trying the guilty. I was fortunate to find it!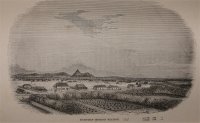 Then on to Kuruman the remote outpost set up by Robert Moffat in the 1820s and where David Livingstone proposed to Moffat's daughter Mary under an almond tree near the missionary's house. The home of the first missionary, Hamilton, has now been restricted despite being a recognised monument and is now occupied by the African curator as his house! Like so many historic sites in South Africa this important piece of history is falling into disrepair under the ludicrous affirmative action policy.
Image right: The Kuruman Mission Station as recorded by Dr Robert Moffat in 1876
From there it was on to Vryburg and then, at last, to a very disappointing Mafikeng which was dirty, very black and a poor symbol of such a historically important town. Once again the historic sites have been neglected and many are lost forever. The road from Vryburg to Mafikeng runs dead straight for 28km before you get to the small town of Stella (on route) - one of the longest straight stretches in the country.
My guide Malcolm took me to all the significant sites including the concentration camp set up by the British after the relief of Mafikeng where so many young Afrikaner children died in appalling conditions under Lord Kitchener's crash and burn policy. About 75% of the inmates died before Emily Hobhouse personally visited the camp and demanded better conditions for these poor people.
Leaving Griquatown

On the dirt connecting road

to Danielskuil

The diamond mine at Lime Acres

Lime mine at Danielskuil

Old house in Danielskuil

Barend Barends

deep snake pit for prisoners

Wonderwerk Caves

Bushman paintings

Archeological

dig in the large cave

On the road to Kuruman

Kuruman

Kalahari taxi

Road to Moffat's Mission

Moffat's house

The great Missionary

His church at Kuruman

His pulpit

Part of the church

The water trough at the mission

The tree where Livingstone
proposed to Mary Moffat

Moffat's church - another view

Hamilton's house where
Livingstone stayed

On the road to Vryburg

Vryburg - once very Afrikaans

now very black

Straight road to Mafikeng

Mafikeng
I arrived at Mafikeng just after 2pm and was met at the Lions Rest Motel by Malcolm who took me on a guided tour of the historic sites.
The Lions Rest Motel

Entering dirty Mafikeng

The monument outside the museum

Mafikeng siege museum

Taung man copy - original to be
shipped to Taung and who knows?

In the museum

Boer shrapnel

Malcolm and guns

The flag that flew during the siege

Siege bank notes

Where the market square was

Cannon Kop Fort - occupied by
both sides during the siege

Cannon Kop Fort

- British graffiti

Oldest school in Mafikeng

Home of Borolong royalty

Where the Borolong chiefs meet

The memorial to the Boer

children who died in the concentration
camp at Mafikeng (at treeline)

The old railway station works

Rhodes looking north again

The historic graveyard at Mafikeng

VCs

Siege victims

Youngest casualty

26 British killed in one day

The Bechuanaland Border Police's

original station (1890s)

The convent used as hospital then

bombed by the Boers