Griqua "Roepers" - extract from "Children of the Mist (pg 322)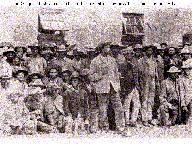 After his release (Andrew Andries Stockenström Le Fleur), he was revered like never before, and many Griquas were given renewed hope and direction, something they had lost now that they were stateless. Le Fleur was determined and, as you will see, single-mindedly inspired by God to gather up Adam Kok's bones. This time Le Fleur used peaceful means and sent the Griqua message to all corners of the country by means of girls' choirs - the Roepers (or callers). They travelled many miles on foot, with no shelter and nothing to eat. They are the unsung, yet not forgotten Griqua heroes, many of whom are still living at Kranshoek in Plettenberg Bay and elsewhere, still singing in choirs and still working tirelessly towards Griqua unity.
Image right: Le Fleur and his followers outside the Kokstad Magistrates Court in 1898 (more at this link)
The seeds of the Roepers' song were now sown and by 1910 many Griquas and coloureds from the Cape Town district had gathered on a large farm called Wolvekloof at Touws River in the Eastern Cape. The farm, purchased by Le Fleur, was now one of the last Griqua outposts. Here gardens of fruit, vegetables and livestock were successfully cultivated and sold at the markets in Cape Town.
As part of his calling, Le Fleur started organizing great treks from all over the country during which "he gathered Adam Kok's bones together". Hundreds of Griquas followed him blindly from Namaqualand and the Orange Free State, but the most famous trek was from Kokstad in 1917.